0010, 28 April 2006 :: Waiting...
Once again, I find myself waiting...this time around, I'm in my new shoes I got from Busan...
What have I been waiting for today? For my purchases to go through (Sorry Dad but I kinda did lots of shopping today).
Class ended this evening at 5pm and I headed down to Ewha Womans University's and did some shopping. There are plenty of shops just outside the university catering mostly to girls - I love shopping there.
A few days ago, I discovered I needed a pair of skinny jeans (i.e. leg-hugging jeans) and another school/hand bag (preferably in a different colour so I could alternate between my new green bag and the new one). So here I was, shopping around, looking for the best bargains.
I walked into one bag shop and looked around. The shop assistant approached me and started talking in Korean. I hesitated in telling her I didn't speak Korean well. You see, I know these bag shops give discount but if you are a foreigner, they would think they could cheat you of your money and give you a smaller discount. Anyway, I sort of understood her first statement about having further discount. I spotted the bag I have been eyeing since March, but the stated price was still around 35000 Won (US$35). I still don't think it's worth paying all that for that plain looking bag, so I moved on to looking at others. She trailed behind. Then she started talking in Korean to me again. I nodded at appropriate times pretending that I understood. It was too late to tell her I couldn't speak Korean. Then I think she asked me what type of bag I was looking for or something like that...who knows if that was what she actually said, but I said 'Ah Ni Yo' and left the shop. I'm now curious and want to know if she did have any doubts about where I'm from or she just thought I was another Korean who probably didn't like talking much. Haha...I'll never find out...I've always been curious. Sometimes I enter into a convenient mart to purchase an item or even into a store, and I ask 'how much is it' in Korean, and I pay saying 'here you go', and I thank them and leave the shop - can they tell I'm not Korean?? You see, so far, I've spoken to some Koreans and they all say my pronounciation is very good, they all thought I'm Korean...so I don't think I have an accent in phrases that I've used countless of times...so is there any other tell-tale sign that gives me away? Who knows.
I walked further on and bought myself a rather 'sexy' green singlet top - the top shows off some of your back, but I just found it cool. I don't know if I'll ever wear it but it only cost me 2800 Won (US$2.80). Then I moved on to another bag shop and spotted the bag I've always liked in pink for only 19000 Won. I was almost going to make the purchase though at the back of my mind, I was thinking it was rather plain and it was in a shade of pale pink which wasn't really fantastic...however, another bag caught my attention and as I looked on, I found the style quite similar to the one I have always liked, but with a little more design and pockets on the outside of the bag, making the bag look less plain. I didn't have to decide for too long and bought the latter instead. It was only 15000 Won...but (yep, there's a 'BUT')...it's green. So much for wanting a bag of a different colour. Perhaps sub-consciously, I purchased it because of the colour...I wouldn't be surprised.
After all that shopping, I skipped along to meet Min Hee and Irene for dinner. It was Irene's farewell dinner. Irene only joined WorldLink Education Total Program for a month. Muji joined us later midway for dinner as well.
Irene, Muji and I all wanted to do something different to our hair. Muji wanted to curl it, Irene just wanted to get it trimmed and coloured and I wanted to straighten mine, so after dinner, with the recommendation of Min Hee, we went to her hair salon. In the end, because it was already 8pm, only Muji got to do her hair. Irene and I will just have to WAIT till Monday or Tuesday when we return. Sigh. I don't know if I can wait that long since I've finished my gel and I'm getting sick of maintaining curls.
Suddenly, we noticed Muji's hair being chopped off in terms of inches!! Apparently her ends were rather damaged so the hairstylist didn't recommend perming, so they decided to go shoulder-length short. However, I realise my hair is pretty dry and damaged at the ends as well - BUT I don't want my long hair to be butchered!! AHHHHHHHH.
Anyway, while Muji was having her hair cut, Irene and I went for more shopping again and I found a pair of skinny jeans. It's not in the dark Levi's colour I wanted but it was at a very reasonable price and the design was quite nice so I bought it in the end...definitely saved heaps of money as supposed to buying Levi's. Now I've finally got another pair of jeans...one pair of blue jeans in Korea's cool spring weather isn't enough.
Min Hee and Muji finished with their cut and met us. Min Hee went off while us girls continued shopping around. I saw these 2 gorgeous earrings! They were so pretty, I couldn't decide which one I wanted. It wasn't too cheap either to purchase both, so initially, I purchased one and left the shop, but I kept on thinking about the other. Then a fantastic light bulb flashed across my mind. I went back and bought the other. If I can't have both, my best friend can have one and I can always borrow it...HEE HEE!! What do you think babe? I'm smart right!! Haha...hope you'd like one of them. If you don't like either, it's great for me too!! Hee hee hee. Buying one for you was just as excuse to keep it close to me instead of in another Korean's hands and regret forever.
After all that shopping, we decided to grab a drink first before going home. I suggested The Coffee Bean since it was right across the street and I had my most favourite coffee in the entire world - Coffee Bean's The Ultimate Mocha Ice Blended. YUM!!! I haven't had it in ages and I gave in to temptation even at 10pm, knowing full well that I wouldn't be able to sleep till 4am because of it.
MMMMM MMMMMMMMMMMMMMMMMMMMMMMMMMMMMM!
0315, 30 April 2006 :: Learn to say 'NO'!
I hate clubbing. I think it's the most useless form of leisure ever!! Why do I still put up with it? I am so put off clubbing for a long while as of today!! NO MORE CLUBBING FOR ME! Want more reasons to support my decision? Here's 10 things I hate about clubbing:
1) I'd rather spend the admission fee of 15000 Won (US$15) on a nice top in Singapore!
2) I'd rather be sitting in a nice coffee and cakes cafe putting on calories than constantly being bumped off my calories by sticky bodies.
3) I'd rather enjoy my own personal space, than being cramped into a tiny dance floor constantly brushing against strangers.
4) I'd rather have the hands of a friend than a stranger's wrapped around my waist - KEEP YOUR HANDS TO OURSELF (not from personal experience but from the number of strangers who danced with Irene - guess I'm not a good enough dancer to attract any attention).
5) I'd rather be able to converse with friends than shout over the loud music and hope they understood what I meant.
6) I'd rather listen to the original music than one that's been distorted into dance music.
7) I'd rather smell nice than feel absolutely disgusted with smoke perfume all over my body and weaved into my hair.
8) I'd rather meet guys who are geniunely interested in me than guys who are probably only interested in touching you (from observation).
9) I'd rather do something more interesting than bobbing around in the limited space you are given by people around you wishing for time to pass.
10) I'd rather be getting my beauty sleep than writing this entry bitching about clubbing.
I don't know if it's coz I'm too nice a person that I decided to accompany the clubbaholic Irene since Lydia had to go home to study for her exam on Sunday, and Muji had to wake up early on Sunday for a short day trip.
I need to learn to say 'No'! I need to learn to say 'No, that's enough'! At 2am, I was dead bored from all the bobbing and bumping, I honestly thought it could be seen from my face. But when Irene asked if I wanted to go, I said, "Anything, I don't mind going if she doesn't mind." JUST SAY 'NO MORE, THAT'S ENOUGH'! Of course to a clubbaholic like her, she'll want to dance more so we stayed on a little longer. Finally after a while, she got the message. Anyone could probably tell. I wasn't smiling. I was standing dead still on the dance floor. I gave dagger eyes to anyone who tried to push their way past me.
I feel so old when it comes to clubbing. Irene is more than 10 years older than me but is much younger at heart than I am when it comes to clubbing and pubbing - I'm antique!
Here's a good tip I picked up while clubbing...if you are ever bored and counting the minutes to when your friend(s) decide to leave, pray. You can pray to God anywhere - even on the dance floor. And so I prayed, for time to pass quickly, for Irene to realise I'm dying to go home, for God to protect me from those sleezy guys, and for God to teach me how to say 'no' next time.
1240, 30 April 2006 :: A good 8 hours sleep
I'm back after a good 8 hours sleep. I could have slept more but my host mum knocked on my door at noon and woke me up for lunch. That's good too coz then I can blog to you about my past 2 days...
On Friday evening after school (that was the last day of school for the month), I met Victoria and her friends for dinner. Victoria is a Korean, Alex's friend and she introduced me to another 2 friends of hers - one girl Chikako and a guy Juni - who are Japanese but has been learning Korean and studying in Korea for more than 5 years. They look Japanese, but when they speak, you wouldn't be able to tell the difference! So COOL!! I want to speak like that some day as well. Does it mean I have to move to Korea to live for about 5 years?
Anyway, Juni brought along a friend, Thomas who is an American-born-Korean. He speaks both fluent English and Korean, plus having grown up with strict Korean parents, he knows all the Korean customs - e.g. when drinking, you serve or receive with 2 hands. Chikako knows him as well and they seemed rather close. Throughout the night, he joked that they were a couple and Chikako played along as well. My theory on the matter: He really likes Chikako, but because she's Japanese, and he's in a strict Korean family, they can never go out and both of them know that so they can only act and pretend to be a couple.
After dinner, we headed off to a pub, meeting another friend of Victoria and Juni's. He's Japanese as well, but came to Korea a month ago on a business trip. He's learning Korean as well and he speaks fantastic...or rather, he practices what he learns so he's improving fast. I need to learn from him and practice what I learn!!
At the initial meeting with him, he was in a suit and was very polite as all Japanese are, bowing and introducing themselves. It was a little awkward and formal and I was a little scared of him because he was a business man and seemed a lot older. And you know Japanese with all their etiquettes, I was so self conscious around him. However, after a few drinks and food at the pub, he loosened up and I found him really funny and interesting. He made the conversations fun. I felt a little awkward with his bunch of friends I hardly know except for Victoria, but he made it much better. I could also talk to Thomas because he spoke English so it wasn't too bad until Thomas left to meet some of his other friends and Juni called another friend over. He's Korean but he brought along his Japanese girlfriend. Then it got a little weird for me again but not long after, we went to another bar and had another round of drinks. I didn't drink much though.
I found it weird but yet I stayed on...and I even called Muji and Irene along who were bored at Hungdae. They joined us and it was a little awkward at first coz the entire table of people hardly knew each other well...they were all friends of friends and from all around, but Humi, the Japanese businessman, eased the atmosphere with his amazing voice. I think he had a bit more to drink so he was pretty high, but he entertained us with Korean and Japanese songs. He said he was a judebox and we started selecting our songs. I said I knew a Japanese girl band called Speed, and he sang one of their songs. I said I knew SMAP and he sang another song of theirs. I said X-Japan and he knew one of their songs. And then he surprised us with Korean songs!! He sang them really well!!! Like a Korean!! I asked for Shinhwa and he sang one...it was amazing!
That night when we all split, Muji, Irene and I found ourselves roaming the streets at 1am in search for a toilet, but we couldn't find one and ended up returning to all our homes.
On Saturday, I woke up at around 10.30am, got ready and met Irene at Sinchon for lunch. We went to 'The Twosome Place' (I love the name of the cafe) and ordered a scone, and 3 cakes...yes, we were greedy girls who didn't mind putting on calories!! Nevertheless, we reasoned that chiffon was light so it was alright - we clearly didn't see the layers of cream all over the cake. However, since I didn't like the cream, most of it was taken off.
Then Muji and Lydia joined us and we headed off to MBC - one of Korea's broadcasting station. We were going to watch a live mini concert, like those variety programmes with about 8 performers performing one song each. Last week, Muji and Lydia went - it's all free but you need tickets - and they asked the guy in-charge of giving tickets if they could bring more friends from overseas next week to the concert. He said yes, no problem, so when we went to MBC, we overtook the rows of school children and fans and found the most important guy. He gave us our free tickets. Lydia didn't join us as she had an exam on Sunday to study for, but before she left, she gave us important instructions saying that at the end of the concert, we were to find this guy and ask for free tickets again.
Here's our free tickets and the crowds of fans we overtook!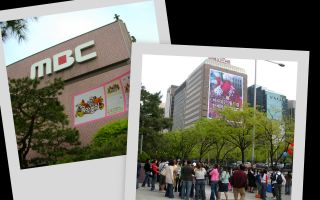 We were one of the earlier ones who entered into the set and we managed to get a seat 3 rows from the front. It was awesome!! This was my first time to such a concert and I was shocked how much things went into a half an hour performance. From where I was sitting, I counted about 70 staff members on the floor cameramen and their crew, lighting crew, props crew, security guards, and many others who I had no clue what they were doing.
Between performances, we saw how rush the crew were, one singer off, another on and the stage props is changed quickly. It was very interesting. However, cameras weren't allowed. I only managed to get one while they were getting their set ready for a 2-man group that I don't know.
Among the artistes, I only knew Lee Hyori (one of the most popular female singers in Korea), BUZZ (a 5-man boyband), May Bee (an up and coming female singer) and many others whom I have never heard of. Actually, I've never heard any songs by those performers, but it was just an awesome experience being there.
After the performance, we couldn't find our free ticket man and left. Like the crazy fans, we hanged around the place for a while and waited for them to drive out. The fans went ballistic when they saw their idols. It was rather hilarious because BUZZ came out first and all the girls who were standing near the front by the driveway chased after the car. The guys moved forward and occupied the space, waiting for their 'Lee Hyori'. It was just interesting for us tourists. Muji was enjoying herself though since she knew these singers and had her favourites. I think I've grown out of it now. Guess I am getting old!!
We returned to Sinchon and had some tea while waiting for Lydia to join us. We decided to have traditional Korean chicken ginseng soup called 'Sam Ge Tang'.
On our way for dinner, we saw this model in a box. He was advertising for a new Korean movie and it was a very interesting advertising concept. He wasn't the actor in the movie but I think I like the model so much more than the actor!! So many people stopped by to look and take pictures. We did likewise.
We went to a famous restaurant in Insadong to have dinner. You've got to have the best of the best! Muji didn't join us for dinner though. Before we started, we had to drink a small glass of ginseng alcohol. We had a whole chicken each to ourselves but it's a tiny chicken, stuffed with gluttinous rice inside. The chicken was delicious, but the rice wasn't.
After dinner, we went back to Insadong for a walk, and also in search for those 3 old ladies selling that delicious pastry I had a while ago but they weren't there. Apparently they used to sell every single day but currently, they are so popular they probably have earned so much that they don't need to sell it everyday. Now it just depends on your luck and if you do see them, no matter how full you are, you should buy one!
Then we headed back to Hungdae where we met Muji, went for a round of karaoke and then clubbing. Lydia bailed to study, and Muji didn't stay as well. It was just me and Irene and like I said above...I didn't like it.