10.15am - Wakey Wakey Call
Mum: "What time is our hair cut appointment? Is it 11 or 11.30am?"
Raine, half awake, thinks: "Hmmm? 11.30am."
Mum: "Are you sure it's 11.30am?"
Raine, starts doubting, remains silent as she wrecks her brain, reenacting yesterday's phone call convo.
Mum: "You wake up now, think and come upstairs and tell me soon."
11.30am - 1st Appointment of the day
Maryam: "How would you like your hair cut today?"
Raine: "Can I keep the length? Just trim and slightly shorter fringe and layered a little."
Maryam holds up her fingers one inch apart: "But I'll have to cut off this amount."
I had a nice and relaxing wash, followed by blow drying and straightening with a ceremic hair straightener, and then comes the cut. Turns out she cut more than one inch off!! My hair definitely looks shorter, but neater (also coz of the temporary straightening).
Not to forget:
Maryam: "What shampoo are you using right now?"
Raine:
Oh no, she's going to intro me to new EXPENSIVE hair products again
"The one you recommended me the last time."
Maryam with a time-for-a-new-change expression: "Do you still have a lot left?"
Raine: "Yes, I bought a bigger bottle to replace the small bottles that finished. And there's still quite a bit."
Maryam, thinking hard: "Well, maybe you can use this hair relaxing moisturiser."
Maryam walks off to retrieve a bottle of product and returns, placing it in front of me.
I smiled and stare at that EXPENSIVE bottle of product before me.
But at the end of the cut, I didn't buy any products, though mum got 'conned' into buying $120 worth of products (mum went to cut her hair as well). I like my new hair cut...not very different, but it's striaght right now and I'm loving it. I know once I wash my hair, it'll disappear - so I'm trying to stall washing my hair but I'll never survive...I like knowing my hair is clean and nice. And my new cut is nice too...worth the money spent on it so I'm happy. Hee.
4.30pm - Photo shoot with John Cowan
After being styled, my presence was demanded at the photo studio. It was FUN, and tiring as well. I finally got a taste of the life of a model. It's not easy. You had to sit really still and take instructions, plus to smile on command. John had to use several cheezy lines to get me to smile more naturally.
Raine smiles and poses for the camera. Click.
Smile. Click.
John: "Smile again."
Click.
Raine twitches mouth: "I can feel it's very fake."
Pose again.
John: "Now where's that pretty smile hiding?"
Smile again. Click.
John: "Ahh, you're a natural!"
Smile. Click.
John: "Now turn your head slightly to the right, that's right but look at the camera."
Turn head, look at camera. Smile fakely.
John: "You can smile better than that!"
Click.
Click.
Click.
And there's plenty more where that came from, but it was really fun, posing in all different angles, with my parents, with my grandparents, altogether, just me alone...the whole lot. We spent about 45 minutes in front of the camera under the spotlight and that was not enough. When I got home, I wanted to take more photos, so we did...with my grandparents, with my parents, with Metyu or just me alone.
Then, I played with some of the photos digitally, trying to use photo impact to enhance some photos to make it look pro. You see, John said there is this technique that he can do, making the rest of the picture in Sepia (browish colour) except for the colour of the hood, so it stands out, but coz the BBIM colour is Apricot, which is light orange, it may not stand out on Sepia but he'll try on black and white...so yea...I decided to give it a go. Wanna see some photos we took today on our own, without the pro?
Pic # 1: Sepia Example by John Cowan
Pic # 2: Photo Impact Wonders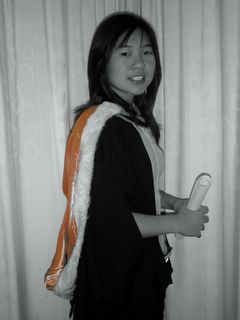 Pic # 3: My Fav Black and White Pic - Prefer my smile here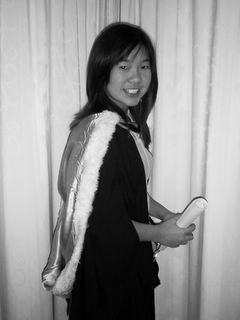 Pic # 4: Who's cuter??